Let's face it, moving into a smaller space often means some tough decisions about what to keep and what must go.
Several years ago my in-laws, Burt and Edith, reached the point where they were ready to spend less time working on their large home and garden and more time focusing on spending time with the grandkids, travelling and cutting back on yard work. It was time for a smaller more manageable home with less maintenance and upkeep.
I spoke with them at length over several weeks about what was important to them and what the whole process would entail, including a list of "to do's". Admittedly Burt was much more excited about the move than Edith. My in-laws had lived in the same house for 30+ years and there was a lot of "stuff" in their home.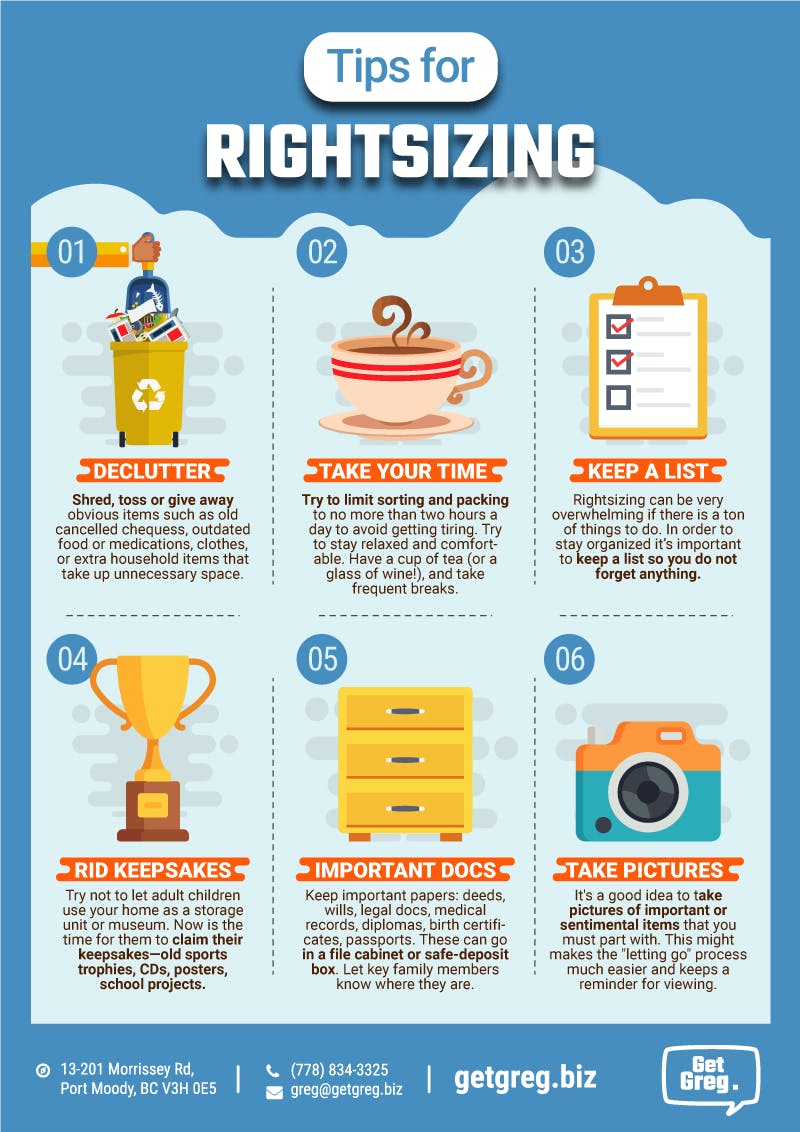 De-cluttering was very high on the list since the old home needed to be sold. This proved to be extremely hard for Burt and Edith. After several weeks of de-cluttering there was barely one car load of items to donate/sell/discard. I quickly realized that Edith was much more attached to her "stuff" and the old home than what she had been saying.
After speaking with her and trying to get her to articulate her new home "wish list" I realized Edith had no idea what the new place would/should look like. This was a turning point.
I scheduled several days of property showings in neighbourhoods that offered the right combination of location, amenities, shops and services. What a difference! After two long days we found a lovely new home that Edith absolutely loved! Burt's checklist was not complicated, he was on board immediately. A deal was quickly struck.
The next day I stopped by the house to drop off some documents and to my surprise, found a huge mountain of items in the driveway to be disposed of. Literally the moment Edith got home after finding her new home she became ruthless and focused. If it wasn't going to look great, be super useful or completely fit with her new décor Edith pitched it. A week before she had been reluctant to get rid of anything, even very old items from the bottom of her huge deep freeze.
My point here is that once your ideas crystalize and you have a clear plan forward it becomes much easier to make decisions and move forward with your "Rightsize". The process becomes liberating and can feel like a weight lifting off you.
I have since helped many, many clients go through this process and move forward to the next stage of their lives. I'm happy to share my insights, experiences and tips. Consultations and Market Evaluations are always complimentary. No hassle and definitely no pressure.